The PixelGenius Web Forums Login Info - First Time Registration
Once you successfully login to the forums web site for the first time, you will see the following: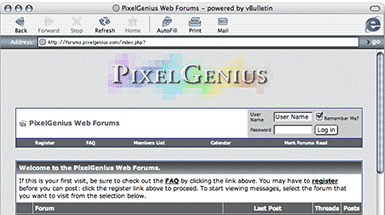 If you have already registered, you must enter in your personal User Name and your chosen personal Password. This is different than the forum login ID and password. This is the actual user name and password you chose when you first registered.
Visiting the forums for the first time:


If this is your first visit to the PixelGenius Forums, you will need to register as a forum user. Click on the Register link on the forum home page. After agreeing to the terms of use, you will see a registration form as shown below: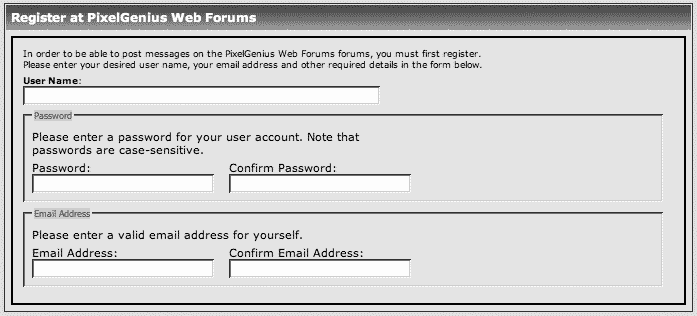 You will need to choose a User Name and your own personal Password. Note, you can change your password at any time. However, you cannot alter or change your user name once it is entered, so be sure you enter in the name you wish with correct spelling. The PG Forums ask that you either use your real name as your user name or you create a signature containing your real name after registering. Abbreviations of your name are fine.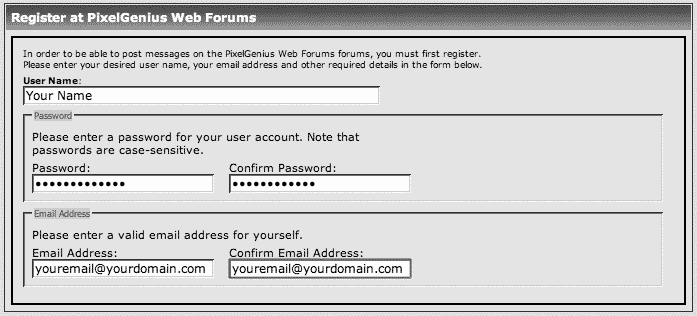 Make sure that the email address is correct. The only way to complete your registration is by receiving the registration email and activating your forum membership. You will need a real email address to confirm your membership. If you wish, you can change your email address in your User Control Panel after completing your registration process.
After filling in your User Name and password, complete the registration by clicking the button at the bottom of the page.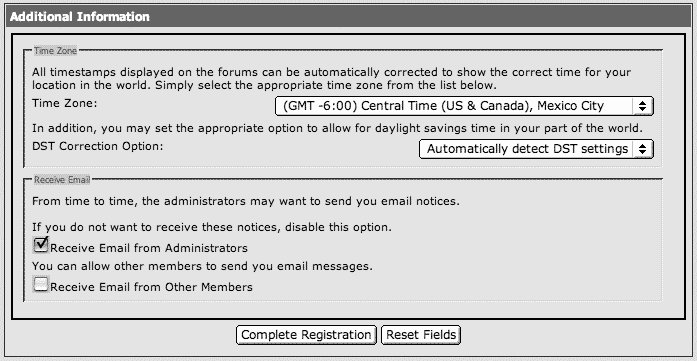 If you have successfully completed your registration, you will see the confirmation shown below: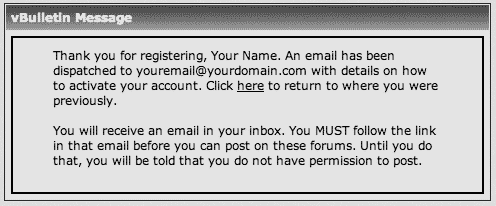 Check your email for your registration confirmation. When you receive it, you will need to validate your registration by clicking on the URL included in the email. Remember, the forum's web site is itself still password protected so you will need to enter in the original forum log in ID and password NOT YOUR USER NAME when completing your registration.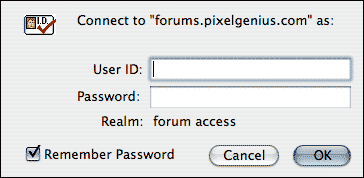 The forum login ID and Password are NOT your registered User Name and personal Password.
The forum login ID is the original login ID and password required to access the PG Forum web site.


When you log into the web site, you will STILL need to enter in your personal User Name and your personal Password you chose when registering.
To return to the main forum info page, click HERE.
If you are having issues logging in, click HERE.
For Forum Support Issues, please use this form: Forum-Problems
If you send an email, please indicate the following critical pieces of information to help us help you:
What operating system are you using, including any updates or service packs?
What browser are you using?
What is your browser's "cookies" settings set to?
What is your internet connection?
Have you logged onto the site successfully at least once?
Have you created a personal user name and password?
Have you received the user validation email?
Have you responded to the validation email?
Have you requested that the forum system send you your user name and password?
Have you received a lock out notice?